SIDING CLEANING, BOCA RATON, FL
Make your siding look like new with soft washing!
Because your siding covers the majority of the exterior of your home, it has the biggest impact on your house's curb appeal. Debris buildup, sun exposure, the weather, and the elements can all dirty, stain, and make your siding look dingy and old. When your siding starts to look dirty, you might think power washing is the way to go. While power washing can definitely clear some of the buildups off your siding, it won't get you the long-term, highly effective results you're looking for.
To get incredible results for your home in Boca Raton, Florida, choose the siding cleaning services we provide at VSP Softwash. We use a state-of-the-art soft washing system that uses gentle cleaning solutions and innovative equipment. When you power washes your siding frequently, it can damage your home's surface and only give you limited results.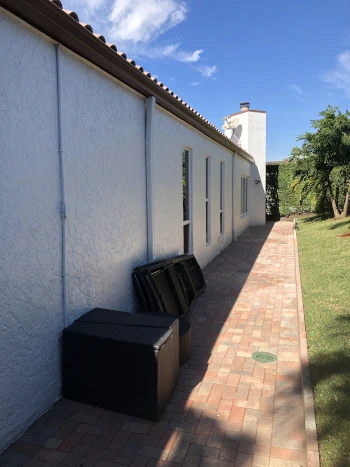 Our siding cleaning services offer next-level cleaning power that eliminates the algae, fungi, microbes, and other growths dirtying and staining your home. This gives you completely clean siding and results that will last and last.
If you're interested in our siding cleaning solutions, start by contacting us to get an estimate. We'll come to your home, give you a better picture about what our cleaning solutions can do, and make suggestions for your home's other surfaces.
We can clean your entire home from the roof to the foundation, and our goal is to make your home look its absolute best. To request an estimate, reach out to us today!
Our team at VSP Softwash offers the high-quality exterior cleaning services you need to keep your Boca Raton, Florida home looking its best.